Faster Speeds Than Ever Before
Sardis Telecom is proud to announce our 5G network is now live, and covers almost all of our existing LTE network. We have spent months testing, and we are now ready to officially let users onto the new 5g network.
Currently we have 400+  users on our new 5G service, and the average download speed has been 81.6Mbps, and the average upload speed has been 27.3Mbps The peak download speed achieved so far has been 326Mbps, and the peak upload speed has been 98Mbps.
All Plans Include
No Data Caps
No Throttling
NO Contracts
NO Cancellation Fees
Not Satellite Based
Next Generation Wireless
Easy Self-Install Equipment
Easy Self-Install Equipment
SardisTel Modem, Router and WiFi
Supports up to 50 connected devices
2 Giagbit Ethernet Ports
WiFi 6 (2.4Ghz and 5.8Ghz)
Simply unbox, attach power cable, and plug in – That's it. You're online.
What is Included in the Setup Fee?
The setup fee that we charge is only to cover the cost of equipment, shipping, and labor to configure, test, and package our products. SardisTel makes no profit from any of the setup fee, and we strive to keep our overall costs as low as possible so that we can pass those savings onto our customers.
No Monthly Equipment Fee!
Most internet service providers not only charge a $49 – $99 setup fee, but also a monthly modem or equipment fee in addition to the regular monthly service fee. On average, the equipment fee is $8 – $10 per month, or a total of around $100 extra per year. SardisTel does not charge a monthly equipment fee, and our monthly service fee is not only competitive with other internet service providers, but many times more affordable!
Things to Know Before You Order
Equipment Delivery Information
Based on current pending orders, and order volume, your self-connection kit will be delivered between Tuesday May 30th and Thursday June 1st! Your modem will be delivered by USPS, no one is required to be home at the time of delivery.
At this time, we do not offer the ability to pickup self-connection kits at our office locations, delivery is required. We are unable to keep enough equipment provisioned and ready for pickup. We get shipments from our supplier multiple times per week, and then our staff must manually configure each Router and Modem. This process takes a few days, and then the modem is shipped to you.
Your Next Invoice Is Not Until 30 Days After Delivery.
Important Information
SardisTel is committed to providing the fastest, most reliable, and affordable rural broadband internet connection available. We consider our network to be of vital importance. Our customers deserve the best, period. That is why our premium network offers low latency, high throughput, uptime and the reliability you would come to expect from a Top Tier provider. We strive for a true 100% uptime, however, in the event of any connection issues, we promise to resolve them as fast as humanly possible. We will issue credits upon request for any verified outage, or network quality issue.
Just a reminder: We do not have any data limits on the number of Gigabytes (or Terabytes) you use per month, nor do we throttle or limit the speed of any type of content.
Approximately 1 out of every 30 new clients will experience some type of small issue when setting up their SardisTel service. Our staff is here to assist you with any issues you may have. When you activate and connect the SardisTel modem and router, please let us know if you have any issues. These issues can almost always be fixed by finding a better position for the SardisTel equipment, or in extreme cases by installing an external antenna to provide a better signal or reduce interference. Customers who need an antenna will be provided with links to purchase an antenna, and will be credited up to $150 for an antenna if we find one is needed at your location. However, this is very rarely needed.
Credit & Debit Card Statement Notice
Your SardisTel service will show up on your credit or debit card statement as "Community Outreach and Development" which is the owner of Sardis Telecom.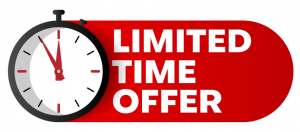 SAVE $100 Instantly!
WAS $349 One Time Setup & Equipment Fee
Now until June 30th - Only $249 Equipment Fee
5G service is $129/m (Billed every 30 days).
Total due today: $378
Your self-connection kit will be delivered between Tuesday May 30th and Thursday June 1st!